Apostolic Administrator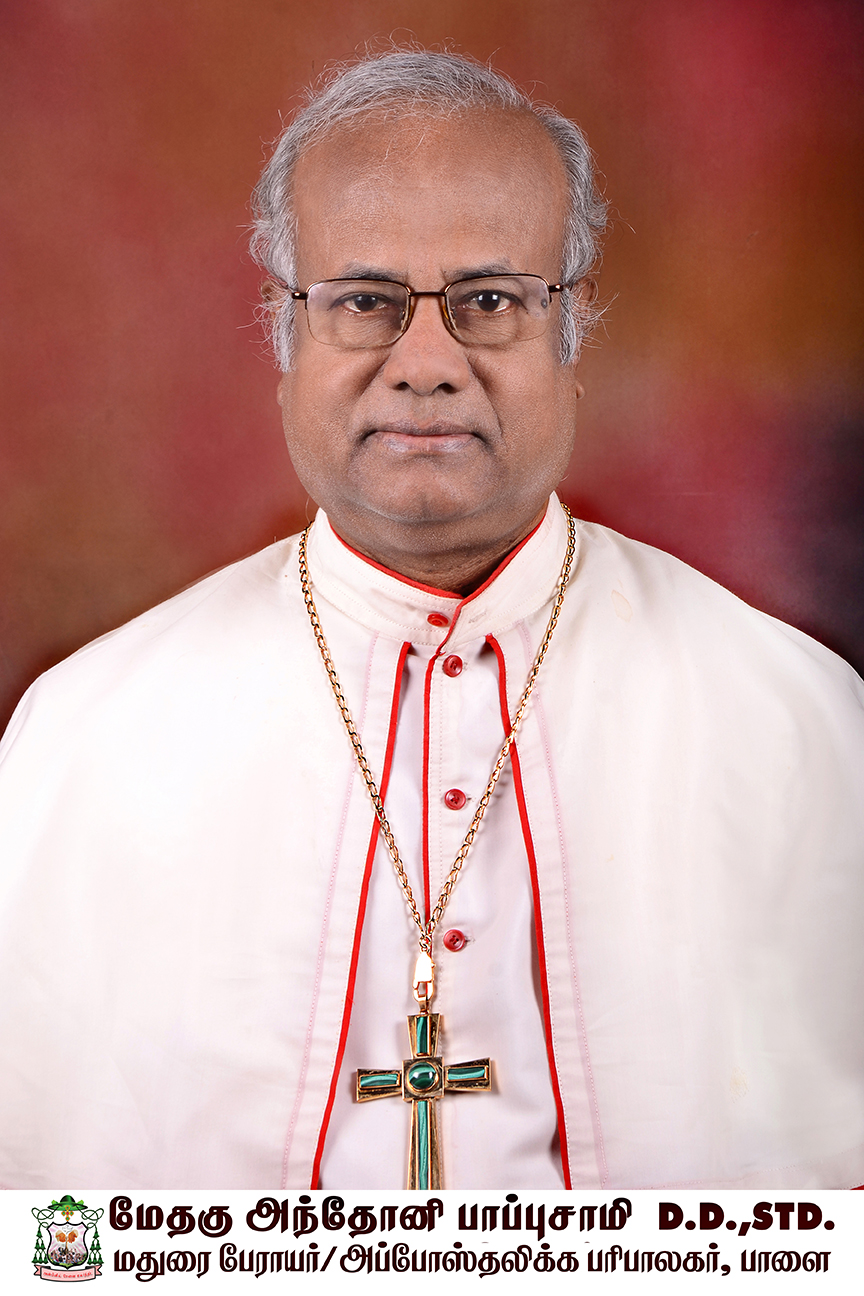 Archbishop Most Rev Antony Pappusamy was born on Oct. 1, 1949 in Marambady in Dindigul diocese. He was ordained a priest on July 7, 1976 incardinated into the Diocese of Trichy.
He was consecrated as a Bishop on 4th February 1999 and served as the Auxiliary Bishop of Madurai from 4-2-1999 t0 10-11-2003; also became theTitular Bishop of Zaba on Feb. 4, 1999. He was appointed the first Bishop of Dindigul on Nov. 10, 2003.
On July 25, 2014 Pope appointed Bishop Most Rev. Antony Pappusamy as the Archbishop for the Archdiocese of Madurai. He is also the President of Tamil Nadu Bishops' Conference.
Ministry as Priest :
Assistant parish priest at Holy Redeemer's Church, Trichy (1976-1977).
Secretary to the Bishop of Trichy (1977-1978)
Secretary of the Commission for Christian Life,Trichy (1977-1980)
Professor of Philosophy and Prefect of Philosophers, Seminary, Trichy (1978-1980)
Prof. of Pastoral Theo.& Director of Pastoral Prog., St. Paul's Seminary, Trichy (1984-1991)
Director of Catechetical Sisters of St. Thomas, Fatima Nagar, Tiruchirappalli (1985-1995)
Vicar General of the Diocese of Tiruchirappalli (1991- 1994)
Dean of Studies, St. Paul's Seminary, Tiruchirappalli (1995-1998)
Early Education:
High School: R.C. Higher Secondary School, Trichy (1963-1966)
Courses on Latin and Initiation: St. Peter's Seminary, Madurai (1966-1968)
P.U.C.: St. Joseph's College, Trichy (1971-1972)
Priestly Studies: St. Paul's Seminary, Trichy, Philosophy (1968-1971), Theology (1972-1976)
Academic Qualification: S.T.L. John Lateran University, Rome (1980-1982)
S.T.D John Lateran University, Rome (1982-1984)
Diploma in Spirituality, St. Thomas Acquinas University, Rome (1982-1984)